Do you like to have fun? Do you like to get active? Do you like to be around other people? 
If you answered yes to any of those questions, you should play flag football! Flag football is a great way to have an enjoyable experience and get in shape.
It is also a great way to meet new people and make friends. Here are our favorite reasons why you should play flag football.
5 Benefits Of Playing Flag Football
In recent years, the sport of football has received a lot of negative publicity. Head injuries and long-term health issues that some players have experienced, such as chronic traumatic encephalopathy (CTE), have led people to avoid watching or playing the sport altogether. 
And while this is understandable, it's important not to dismiss all aspects of the sport just because a few people get injured in pursuit of their dreams.
One alternative to traditional tackle football is flag football leagues, which allow you to enjoy the physical challenge and teamwork aspect of the game with minimal risk of injury. Here are 5 reasons why you should give flag football a try:
1. Flag football is safer than traditional tackle football
As mentioned above, tackling is what causes many injuries in football. In addition to tackling, blocking, pushing, and stiff arms, are against the rules in most leagues. With flag football, you eliminate the possibility of collision and injuring your head or neck or any body part for that matter.
2. It is a great way to get or stay fit
Flag football requires a lot of physical exertion. Playing provides an excellent form of cardiovascular exercise that requires a lot of running and rapid changes in direction. It can improve heart health, increase endurance, reduce the risk of cardiovascular disease, and help you lose calories.
Compared to other forms of exercise such as weightlifting or yoga, flag football is more effective at improving cardiovascular health due to the high-intensity nature of the game.
3. Flag football helps build teamwork skills
As with any team sport, flag football is about much more than winning. It's also about working together as a team, which is a great lesson for children. And whether you have it in your long-term plans to become a professional athlete or not, having strong teamwork skills will benefit you greatly in all aspects of your life.
4. You can play flag football at any age
There are flag leagues for kids, teenagers, and adults alike. And thanks to the fact that tackling isn't part of this sport, people who might have been unable to enjoy the physical activity of traditional tackle football due to age restrictions or health issues can still play. No matter if you're a woman, man, or child, there are countless opportunities for you to have fun participating in flag football.
5. You don't need expensive equipment
One of the biggest advantages of playing flag football is that you don't need any expensive equipment or gear. You can play with what you have available at home, such as football and old T-shirts, pocket-less shorts, and sneakers or cleats from your closet. All you really need to get started is a flag football league in your area!
Is Flag Football Better For Kids?
Kids or younger people should stick with flag football for a variety of reasons. Below are the top 9 reasons why you should play flag football if you haven't already.
1. Flag football is safer than regular football
Kids and younger people are more susceptible to injury, so it's important that they choose a sport that won't put them at risk for serious bodily harm. With flag football, there is no direct contact between players, which means less wear and tear on the body and fewer chances for injuries like concussions or broken bones to occur.
While flag is generally safer than tackle football, more bruises, cuts, and scrapes tend to occur in flag.
2. It teaches teamwork
Whether your child turns out to be an athlete or not in the future, playing sports helps develop skills like teamwork, communication, and coordination that will serve them well in a variety of other pursuits. Flag football requires these skills, and it is a great way for kids to learn how to work together as a team while practicing their physical abilities.
This can have a positive impact on mental health and emotional well-being. Participating in a team sport helps individuals build relationships, develop communication skills, and gain a sense of belonging.
3. It's a fun way to exercise
Throwing, running with, and catching the football is a lot more fun than running around a track. It's also more enjoyable to participate in exercise with friends, compete, and keep score. Compared to other forms of exercise, such as swimming or cycling, flag football engages more muscle groups and can lead to a greater improvement in overall fitness.
For kids who love football, starting with flag is a great introduction to the sport.
4. It improves self-confidence
When kids take on new challenges like flag football, they often find more capable than they thought. This can lead to a big boost in confidence, and it will carry over into all aspects of their lives. Whether your child has always been shy or is more outgoing, flag football can help them feel more comfortable interacting with others and embrace new opportunities.
5. It's accessible to all budgets
Many communities have free or low-cost pick-up games at local parks, and organized leagues can be found at a variety of price points. Most leagues charge lower registration fees than other sports. With camps, tournaments, and leagues available year-round in most areas of the USA through local rec departments, NFL FLAG, and the YMCA, there are always chances to play.
6. It boosts balance and agility
Playing the game requires quick movements and changes in direction, which can improve agility and balance. Compared to other forms of exercise, flag football is a more effective way to improve agility and balance as it simulates real-world movements.
7. It fosters skill development
Playing flag involves strategic thinking, quick decision-making, and teamwork. These skills are transferable to other areas of life, such as work and personal relationships
8. Physical limitations do not matter
Flag football allows individuals with physical limitations or disabilities to participate. It does not require a high level of physical contact, which makes it more comfortable for individuals who may not be able to handle the physicality of traditional football. For this reason, flag football is a big sport in Special Olympics.
9. It is inclusive
Flag football can be played by anyone regardless of their gender. It eliminates the traditional male-female divide in sports and provides a level playing field for everyone.
FAQs – Why Play Flag Football
Is flag football easier than tackle football?
There is no definitive answer to this question since it depends on the particular person playing flag football and the particular person playing football. 
Both flag football and tackle football require different skills and strategies, and both can be challenging in their own way. Flag is often seen as less physically demanding and less risky in terms of injury compared to tackle football.
Does flag football prepare you for tackle football?
Flag football can help prepare you for tackle football in a couple of ways. 
Flag football helps learn the basics of the sport and become comfortable with handling the ball and making plays. 
It also helps you improve your physical conditioning and gets you used to playing as a team. 
Final thoughts
There are so many reasons to why play flag football – it's a sport that people of all ages can enjoy, regardless of skill level. The physical and social benefits alone are worth giving the sport a shot.
As more and more people realize the benefits of playing this fun and competitive game, we hope that even more will join in! 
Sign up now and see for yourself why so many love flag football. You won't regret it!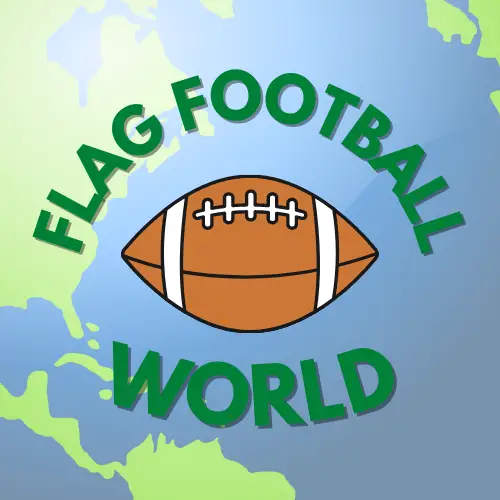 Vance J has played flag football since he was a boy. Since then, he has become a coach and a huge advocate for growing the sport. He loves to write and talk about flag football!