Flag football is a variation of the American game of football that the National Football League wholly supports.
Flag football can be played recreationally or competitively in organized leagues, and the NFL sponsors organized leagues and tournaments throughout the USA.
Today, we will provide an overview of NFL flag football, including the rules, leagues, and gear you will need to play!
Does NFL Sponsor Flag Football?
Yes, the NFL sponsors flag football leagues and tournaments throughout the country. In fact, many of these leagues have grown increasingly popular over the past few years – particularly due to the rising popularity of football among younger athletes.
While there are some similarities between the flag and tackle football, such as positions (e.g., quarterback, running back), rules (e.g., play clock), and equipment (e.g., helmets), there are also some key differences that set them apart. 
This post will provide an overview of flag football: what it is, how it differs from regular tackle football, how to get started playing this fun sport, and where you can find resources if you want to learn more about NFL-sponsored flag football leagues and tournaments.
About NFL Flag Football
More than 500,000 people participate in NFL Flag leagues and tournaments today, making the largest and most notable flag football organization in the United States.
The foundation for NFL Flag began in the 1990s when the NFL launched a health and wellness initiative called Play Football that had a goal of making the sport accessible to all children. By the 2000s, youth all over the nation were participating in NFL Flag competitions.
NFL Flag's mission is: "To empower youth athletes and instill a lifelong passion for flag football through leagues that are engaging, fun, and accessible for everyone."
With the support of the NFL, NFL Flag offers a structured opportunity for young people to discover the importance of sportsmanship, teamwork, and friendship on the field and off.
NFL Flag is particularly dedicated to creating more opportunities for female athletes to play football.
NFL Flag hosts numerous regional tournaments and events.
What Are The Rules Of NFL Flag Football?
Flag Football is a fast-paced, competitive sport that allows anyone to play. If you're looking to get involved in the game, there are several different leagues and variations that you can choose from under the NFL Flag umbrella. Whether you want a casual game to play with friends or a more competitive league where skilled athletes compete for glory, flag football NFL has something for everyone.
First of all, it's important to understand what exactly flag football is. The basic premise of the game involves two teams competing against each other on a field with flags attached to their waistlines instead of traditional helmets, pads, and tackling. 
There are several different rules that apply to flag football NFL, depending on which league you're playing in. For instance, if a game is played between young people learning the game, the rules may be slightly different than they would be for high-level athletes with much experience.
Regardless of whether you're looking for casual or competitive gameplay, it's important to understand some basic guidelines for both offense and defense. These rules are defined by NFL Flag:
Every pass made must cross the line of scrimmage.
Only direct handoffs are permitted; no laterals or pitches are allowed.
Seven seconds are allotted to the quarterback to pass the ball.
Only if the quarterback received the ball first could he run with it.
The rusher must not be obstructed in any manner by offensive players, who must stay out of the path.
Rushing is permitted for defensive players who are lined up seven yards from the line of scrimmage.
Any defender is allowed to charge when the ball is passed.
You might not be aware that interceptions can be returned for a score. (This is true even for attempts at additional points!)
The attacking player's flag is removed from their belt, the ball carrier walks outside the bounds, or the ball carrier's body touches the ground without their hands or feet. Any of these events causes the ball to be deemed dead.
Each time an offensive flag football penalty is committed, the offending team loses a down and yards.
A first down is awarded for every flag football defensive penalty, and some are also given yards.
Are There Leagues In NFL Flag Football?
Yes, there are many leagues in NFL Flag Football. In fact, it is estimated that over three million people play flag football in the U.S. each year. 
This includes those who play recreationally, as well as more than 500,000 people who play on various organized league teams across all age ranges and genders. It's also estimated that over 6 million Americans have played some form of tackle or flag football at least once in their lives.
One thing to keep in mind regarding playing flag football is that it can be a bit different than traditional tackle football due to its rules and gameplay style. 
For example, players cannot touch a player from the opposing team or physically block them from getting to a flag. However, this also means that the game is typically less violent and much safer for players of all ages to play than traditional tackle football.
How Many Players Are There In Flag Football NFL?
There are many different versions of flag football, but typically there will be between 5 to 11 players on each team. Some variations on the number of players per team, depending on how large the field is or whether any specific positions are required as dictated by a particular league's regulations – for example, quarterbacks or receivers may have special roles or rules.
What Are The 5 Positions In Flag Football?
There are typically five positions in flag football: quarterback, running back, wide receiver, lineman, and defensive back. 
The quarterback throws the ball to the receivers and running backs while the linemen provide blocking support. 
The wide receivers and running backs try to catch the ball and advance it down the field while the defensive backs attempt to stop them. 
What Are The Different Flag Football Drills?
There are many different flag football drills that players can use to improve their skills on the field. Some of the most popular drills include passing, catching, and agility drills. Each of these drills focuses on a specific skill set that is important for success in flag football leagues.
There is a drill for every position, so players can improve their skills in the areas they need to focus on. For example, a wide receiver might want to practice his or her catching and agility drills, while an offensive lineman may focus on blocking.
The first drill that we will discuss is the passing drill. This drill involves throwing a ball back and forth with another person, either standing still or walking in a circle. Players should focus on form and accuracy when performing this drill, as passing is one of the most important skills for flag football players.
In addition to practicing throwing passes, it's also important to work on receiving passes. Receiving drills involve catching many types of passes from stationary and moving targets. Receptions are just as important as passing in flag football leagues, so it's essential to practice receiving passes frequently.
Finally, players should work on agility drills to improve their speed and quickness on the field. Agility drills can involve running through cones or jumping over hurdles, and they can be used both before a game to warm up muscles or after a game for recovery purposes. Overall, these different flag football drills are an important part of every player's training regimen.
What Is The Essential Gear To Play Flag Football?
The gear for flag football ranges from uniform to safety equipment. The uniform consists of pads, gloves, shorts, and cleats.
The other main piece of equipment is a flag belt. It has two flags that act as markers for the defense to grab when they are tackling or intercepting an opposing player.
Flag belts come in an array of colors to distinguish teams on the field. For example, red may indicate one team, while blue indicates another team. You can make a belt and flags at home yourself.
When choosing flag football gear, it's important to consider the level at which you're playing. If you're just getting started with the sport, there are many options for people who are still new to it and only plan on playing a few times a year.
For more advanced players, you'll want more durable and high-quality materials. This will help you stay safe on the field and keep your equipment in good condition for longer.
To start, let's take a look at the essential gear for flag football:
1. Uniform: Every player needs to wear pads, gloves, and cleats when playing flag football. These will protect your body from impact injuries such as bruises or scrapes if you fall while running or tackling.
2. Flag belt: The flag belt is an essential piece of equipment that every player must wear during a flag football game. It consists of two flags connected via a flexible cord, which defenders use to "flag" opposing players when making tackles or interceptions.
3. Safety equipment: This may include things like helmets, mouth guards, and shoulder pads. If you're playing flag football at a more advanced level, it's recommended to wear additional safety equipment to reduce your risk of injury from collisions on the field.
FAQs – NFL Flag Football
How much do flag football NFL players make?
Players don't make money for playing in NFL Flag. THe organization does, however, offer special perks, exclusive merchandise, and gear for top competitors.
What ages are flag football NFL for?
Flag football is available for almost all ages – youth to adult.
Flag football provides a fun and safe environment for players of all ages. Different levels of competition are available, so everyone can find the right level of challenge. Flag football is perfect for people of all ages
How many players are on the field in flag football?
There are typically five or seven players on the field for each team in flag football.
The offense is comprised of a quarterback, receivers, running backs, and center who snaps the ball. The defense consists of a QB rusher, cornerbacks, and safeties.
Join The Fun And Try Out NFL Flag Football Today 
NFL Flag football is an exciting sport that anyone of any age can play. 
Whether you're a casual player looking to have some fun with your friends or a serious competitor aiming for a serious league, there are plenty of opportunities out there for you.
So what are you waiting for? Get out there and join in the fun – make sure you practice those tricky catches first!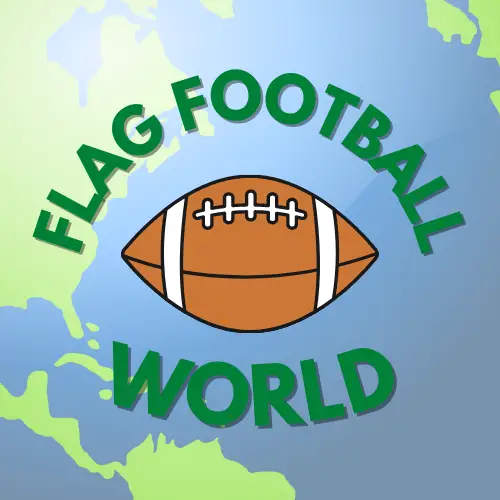 Vance J has played flag football since he was a boy. Since then, he has become a coach and a huge advocate for growing the sport. He loves to write and talk about flag football!