Flag football has gotten quite popular in recent years as people look for alternatives to the full-contact sport of tackle football.
Though the gameplay is much like tackle football, flag football is a non-contact sport played with flags attached to players' belts.
And specifically, parents are drawn to flag football because it poses far less of a risk for head injuries than tackle football.
You may already know a few things about flag football, but there's much more to this sport than meets the eye.
Here are 20 flag football facts that you must know.
1. Flag Football Dates Back To World War II
Flag football isn't just a recent invention. It is being played since World War II. It was created as a recreational sport for the US military personnel to stay fit. The name of the game was "Touch and Tail Football" which later become "flag football".
2. Fort Meade, Maryland, USA Is The Birthplace Of Flag Football
According to records, the first-ever game of flag football was played in Fort Meade, Maryland in the United States. Now this place is known as the birthplace of flag football.
3. Tom Brady Started His Career With Flag Football
Tom Brady, the famous American football quarterback, started his career playing flag football in elementary school. He later joined his high school's junior varsity team. After that, he played college football for the University of Michigan. He has played professionally for the Tampa Bay Buccaneers and New England Patriots of the National Football League (NFL).
4. Longest Marathon Playing Flag Football Was Over 62 Hours
A group of Canadians set the world record for the longest marathon playing flag football from April 30 to May 3, 2015. The game lasted 62 hours and 4 minutes. The record was set at the Yara Centre in Moose Jaw, Saskatchewan, by Moose Jaw Touch Football.
The Moose Jaw Touch Football League is a non-profit organization that gives children in Moose Jaw and the vicinity a chance to play flag football within their community. This event helped raise money for the Children's Wish Foundation International.
5. Flag Football Is Played In Over 70 Countries
Though often thought of as an American sport, flag football is in fact played all around the world. The International Federation of American Football (IFAF) reports that there are over 70 countries with participants playing flag football. Some of these countries are:
Argentina
Australia
Brazil
Canada
Colombia
Costa Rica
Czech Republic
6. First World Championships Of Flag Football Were Held In 2001
Though it has become more common in recent years, the first World Championships of Flag Football were held in 2001. The host city was Toronto, Canada, and eight countries sent teams to compete. Australia's team – The Roo Boys – won that year.
7. The 2021 IFAF Flag Football World Championship Was Held In Jerusalem
In the recent year 2021, the IFAF Flag Football World Championship was held in Jerusalem. The tournament had a record of 39 men's and women's teams from 22 countries.
This event was to be held by Denmark in 2020 but due to the outbreak of the coronavirus pandemic, it was canceled. So, Jerusalem became the host city for this event.
8. USA Won The Men's And Women's Title In the 2021 IFAF Flag Football World Championship
In the 2021 IFAF Flag Football World Championship, the United States retained its men's and women's titles. They successfully defended their world championships against Mexico. The US team fought hard in both finals and came out victorious.
9. Flag Football May Be Played In the 2028 Summer Olympics in Los Angeles
The National Football League (NFL) has partnered with the International Federation of American Football (IFAF) to make flag football an optional event during the 2028 Summer Olympics. If this comes to fruition, it would be a momentous occasion for flag football as it would be the first time that Olympic athletes could compete in the sport.
The 2028 Summer Olympics will be held in Los Angeles, and the IFAF and NFL are hoping that flag football will be included as one of the events. The two organizations have been working together to promote the sport of flag football and to get it recognized by the International Olympic Committee.
Flag football has the potential to be included as an event in the 2028 Summer Olympics, as it was recently announced as one of nine sports still being considered for inclusion.
10. There's A Separate International Women's Flag Football Association
Many people think of flag football as a man's sport, however, it is also enjoyed by women globally. In 2002, The International Women's Flag Football Association was created to give girls and women a chance to compete in tournaments internationally.
Every year since its creation, 8-on-8 flag football games have been hosted annually with participants coming from countries like The United States, Scotland, Sweden, Finland, Canada, Norway, Mexico, Denmark, and many others.
The largest tournament is the Kelly McGillis Classic, which is held in Key West, Florida every February. This tournament features 8-on-8 semi-blocking contact flag football teams consisting of 90 women and girls.
Whether you identify as male or female, you can play flag football at a competitive level. There are also many opportunities to play the sport recreationally.
11. Flag Football Is A Great Sport For All Ages
Flag football is a great sport for people of all ages. It can be played by children as young as five years old, all the way up to seniors in their golden years. There are flag football leagues specifically for kids, adults, and seniors.
There are also flag football options for Special Olympics athletes.
The sport is also a great way to stay active and fit. Because flag football is a non-contact sport, it is considered to be a safer alternative to tackle football.
Whether you're young or old, flag football can be a fun and enjoyable way to stay active. So, get out there and give it a try!
12. There Are Professional Flag Football Leagues
Did you know that there are professional flag football leagues? That's right – if you're good enough, you can make a living playing flag football.
The American Flag Football League (AFFL) is a professional flag football league that was founded in 2017. The league features 7-on-7 games played on a 100-yard field.
In 2018, the AFFL launched its first-ever professional tournament, called the US Open Flag Football Championships. The tournament featured 32 teams from all over the United States competing for a grand prize of $1 million.
So, if you're looking to take your flag football career to the next level, look into joining a professional league. Who knows – you could be the next big thing!
13. There Are Different Ways To Play Flag Football
There are many different ways to play flag football. The most common way is 7-on-7, which is typically played on fields 70-100 yards long by 40-50 yards wide.
Other popular variations include 4-on-4, 5-on-5, 6-on-6, and even 9-on-9. The number of players on each team can be adjusted to fit the size of the playing field.
The three most prominent rule sets for flag football are NFHS (National Federation of State High School Associations), NFL (National Football League), and AFA (American Flag Football Association).
Check out our flag football beginner's guide for more information!
14. Youth Flag Football Program Was Launched In 1996
The NFL's youth flag football program not only introduces kids to the sport of football but also highlights the importance of teamwork and sportsmanship. When playing normally, each team must have at least four players on the field; however, that number goes up to five during tournaments.
Touchdowns earn six points while extra-point conversions can get one or two additional points. No matter if teams are co-ed, all boys or girls, the point values for scores remain equal.
You can find a league pretty much anywhere in the USA.
15. Flag Football Is A Recreational Sport At US Colleges
Like NFL's youth flag football program for schools, flag football is a recreational sport at many colleges in the United States. The National Intramural-Recreational Sports Association (NIRSA) governs most of the flag football games played on college campuses.
According to NIRSA rules, teams can be co-ed or single-gendered, with four to eight players. If a team cannot field a woman, only six players are allowed on the field.
The number of points scored also differs by gender; touchdowns by females are worth nine points while those scoring touchdowns that identify as male are worth six points.
16. There Are Regional And National Flag Football Tournaments
There are various flag football tournaments held throughout the year at both the regional and national levels.
The USFTL (United States Flag and Touch Football League) hosts many of these tournaments, including the annual National Championships which features teams from all across the country competing for the title of best in the nation.
Plus, NFL Flag also holds a yearly national tournament, the NFL Flag National Championships, where teams representing each NFL team compete against one another.
So, if you're looking to test your skills against some of the best flag football players in the country, be sure to sign up for one of these tournaments!
17. You Can Play Flag Football Indoors Or Outdoors
Flag football can be played indoors or outdoors. Most leagues prefer to play outdoors on a field, but some will also play indoors in gyms or arenas when the weather outside is cold, snowy, or rainy.
Indoor fields are typically smaller than their outdoor counterparts, measuring 50-70 yards long by 25-35 yards wide. This smaller playing surface requires teams to adjust their strategies and play calling to account for the reduced space.
18. Flag Football Is A Great Workout
Not only is flag football a great way to have fun and socialize, but it's also a great workout!
Running around the field chasing after flags burns calories and gets your heart pumping. Plus, throwing and catching the football strengthens your arm muscles.
So, if you're looking for a fun and active way to spend your free time, flag football is the perfect activity for you!
19. You Don't Need Much Equipment To Play Flag Football
One of the great things about flag football is that you don't need much equipment to play.
All you need is a football, a set of flags (attached to belts), and a playing field. Some leagues will provide flags and footballs, but it's always a good idea to have your own set just in case.
Unlike tackle football, there is no need for pads or other protective gear – though some players wear soft helmets – making flag football a relatively inexpensive sport to get into.
20. Flag Football Is A Fun And Safe Way To Enjoy The Game Of Football
Whether you're a diehard football fan or just looking for a new and exciting way to stay active, flag football is a great option. It's a fun and safe way to enjoy the game of football without the risk of injuries associated with tackle football.
Plus, flag football is a great workout and a great way to meet new people and make new friends. This sport is especially favored by parents of young children who want to introduce them to the game of football in a safe and fun environment.
Flag Football Is The Future Of American Football
The popularity of flag football is on the rise, especially among young people. In fact, flag football is now the fastest-growing sport in the United States.
More and more young people are choosing to play flag football over tackle football because it's a safer and more enjoyable experience.
The gameplay is a lot different than tackle football, some may think that flag football isn't as "real" as the traditional game.
But, with all of the benefits that flag football has to offer, it's hard to argue that it isn't the future of American football.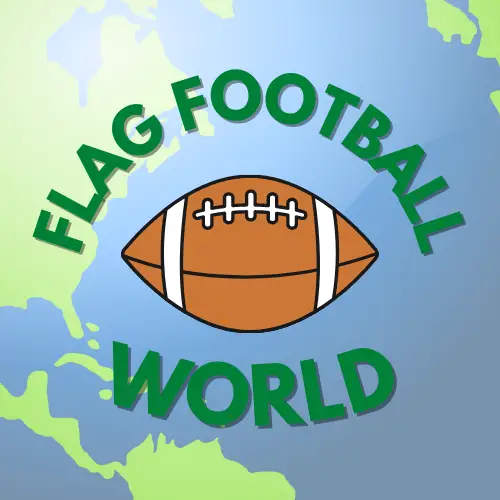 Vance J has played flag football since he was a boy. Since then, he has become a coach and a huge advocate for growing the sport. He loves to write and talk about flag football!