Before you step onto the field for a flag football game it's important to be equipped in the right gear to prevent injury and look your best.
While very little equipment is needed to play the game – one of the perks of flag football! – some leagues and tournaments for youth and adults require certain items to be worn by players.
In this article, we outline various gear and equipment that can be worn by athletes playing flag football.
Whether you are just starting out in the sport or are looking for an upgrade on what you already have, be sure to check out our picks for the best flag football equipment.
The Must-Have Flag Football Equipment To Check Out
Mouthgaurd
Football is a notoriously brutal sport, and even the flag version of the game can be dangerous. If you are planning on playing in a flag football match, it is important to take measures to protect yourself from injury.
One of the most important pieces of equipment you will need is a mouthguard. A mouthguard helps to cushion blows to the face and can prevent serious dental injuries. It is also relatively inexpensive and easy to use, making it an important piece of safety gear for any flag football player.
If you want some of the best mouthguards, you can check out the options mentioned below.
The Battle Sports Binky Oxygen Lip Protector Football Mouthguard is a state-of-the-art mouthguard that provides superior protection and breathability. 
Unlike other mouthguards on the market, the Binky does not require boiling and can be used with braces. The unique Absorber Shield technology prevents impact forces from being transferred to the teeth and jaws, while the large breathing hole allows for maximum airflow.
Battle Sports is a leading manufacturer of sporting goods and protective gear, and the Binky Oxygen Lip Protector is their latest innovation. If you are looking for a mouthguard that provides superior protection and breathability, the Binky is the perfect choice.
When it comes to football mouthguards, the Shock Doctor is in a class of its own. Most importantly, it offers exceptional protection, meeting national and state regulations. It is also latex-free, BPA-free, and phthalate free. 
Importantly, the mouthguard works with braces! In terms of comfort, the no-mold fit is unbeatable. And in terms of breathability, it has a 10% greater flow capacity than other lip guards on the market. 
It is available in a variety of style options to suit every player's taste. Whether you're looking for protection, comfort, breathability, or style, this is the mouthguard for you.
The Battle Iridescent Oxygen Mouthguard is a great choice for athletes who are looking for a mouthguard that is comfortable and effective. This mouthguard does not require boiling, and it works with braces. 
The absorbent shield helps to protect the teeth from impact, and the strap helps to keep the mouthguard in place. The mouthguard is available in one size that fits most athletes.
Cleats
Cleats provide traction on the field and help players change directions quickly. In addition, they protect your feet from the hard surface of the playing field.
They are especially important in flag football because there is a lot of running and stopping involved. Without cleats, it would be very easy to slip and fall. So, while you don't need a lot of equipment to play flag football, cleats are still an important part of the game.
For cleats, we have some of the best options and they are:
The Nike Vapor Edge Pro 360 Mens Football Cleat is a high-quality shoe that is built for comfort and performance. The shoe features a rubber sole that is both durable and flexible, making it ideal for football players who need to move quickly and change directions frequently. 
The shoe is also available in a variety of colors, so you can find the perfect look to match your team's uniform. The Vapor Edge Pro 360 is designed to provide excellent traction on all types of surfaces, so you can focus on your game without worrying about slipping. 
Whether you're a seasoned veteran or a just starting out, the Nike Vapor Edge Pro 360 Mens Football Cleat is the perfect choice for anyone who wants to up their game.
The Adidas Unisex-Child Freak Mid 20 Football Shoe is just what you need to make sure your child has the best possible experience.
These youth cleats come in a variety of designs and colors. They are comfortable and sturdy and work for all sizes of children's feet. Plus, they're made from materials that are durable yet comfortable so your child can have fun without worrying about them breaking down.
Youth football players have to wear cleats that are lightweight and comfortable. Nike's Force Savage 2 youth football cleats combine these two qualities in perfect balance.
Made with a Phylon midsole, the Force Savage 2 Youth Football Cleat delivers lightweight cushioning underfoot while the fast-flexing outsole allows for natural lateral movement. The three hook-and-loop straps lock down your foot with a stable feel, while the pull tabs at the heel and tongue allow for easy on-and-off access.
The velcro closure system makes it easy to adjust your size as you. Available in many sizes, these Nike Force Youth Football Cleats are a great choice for anyone looking for lightweight comfort and durability on their way to becoming an All-Star!
Read more: What is the best size football for your player?
Football Gloves
In flag football, the roles of football gloves are twofold. They not only protect the hands of the players from injury but also help the players grip the ball more securely, which is essential for making clean catches and avoiding turnovers.
When it comes to protection, football gloves offer a number of advantages over bare hands. The padding in the gloves helps to absorb impact, while the material helps to keep the hands warm and dry. This is especially important in cold-weather games when the risk of injury is higher. In addition, football gloves can help to prevent cuts and scrapes, which can be painful and distracting.
The second role of football gloves is to help with ball control. The gloves provide an extra layer of grip, which can be helpful when trying to catch a pass or pull a flag. They can help to keep the ball from slipping out of the hands during play. This is especially important in wet or slippery conditions.
Check out the best gloves out there in the market that include:
Looking for a pair of gloves that will show off your team spirit while also providing a snug, comfortable fit? Look no further than the Wilson NFL Team Logo Stretch Fit Receiver Gloves!
These gloves are designed to fit most adult and youth hands, thanks to the stretchy material and silicone overlay. The split silicone palm ensures maximum stretch and breathability, while the poly lycra backhand provides durability.
The secure fit ensures that your gloves will stay in place even during the most intense games. Best of all, these gloves are available in 32 different NFL team designs, so you're sure to find the perfect pair for you!
The Adidas Adifast 3.0 Football Receiver Glove is designed to help you perform your best on the field. Made of 55% polyester and 18% silicone, the glove provides an unbeatable grip, while the stretchy design keeps you comfortable. 
The perfect football glove for receivers, the Adifast 3.0 provides the grip you need to make big plays. Order yours today and be ready to take your game to the next level.
The Franklin Sports Youth NFL Football Receiver Glove is the perfect accessory for game day. These gloves have a comfortable fit and are made with a lightweight polyester hand back that is breathable. 
The gloves also feature a hook and loop closure for a secure fit. With these gloves, you will be able to catch every football that comes your way.
By helping to secure the ball, football gloves can play a vital role in maintaining possession and keeping the game moving forward.
Team Jersey
Whether you are a fan of the New England Patriots or the Dallas Cowboys, there is no denying that NFL jerseys are one of the most popular items in sports apparel.
And with good reason – they are comfortable, stylish, and most importantly, they show your support for your favorite team. But what about NFL Flag Team jerseys?
These jerseys are specifically designed for flag football and are only used by official NFL Flag youth teams.
So if you're playing in another league or tournament, you'll have to find another option. We like these jerseys that can be personalized!
They are made of breathable fabric with moisture wicking that will keep you cool and dry, even during the most intense games. They can also be customized by color, number, team name, and player name.
Flag Football Belts and Flags
In flag football, the carrier belt and flags are essential piece of equipment. The belt helps to secure the flags.
There are a few different types of carrier belts and flags available on the market. The most popular type is the velcro belt. This belt has a strip of velcro that runs along the length of the belt. The strip of velcro helps to keep the flags in place and prevents them from slipping off.
Another type of carrier belt is the clip belt. This belt has a series of clips that attach to the flags. The clips help to keep the flags securely in place and prevent them from falling off. Just make sure that it is comfortable and fits securely around your waist. Whatever type you choose, it is a must-have in your best flag football kit.
Flag Football Shorts
The last thing you want to worry about is whether or not your flag football shorts are comfortable.
You will want shorts that are made with a lightweight and breathable material that will keep you cool and dry throughout the entire game. They should have an adjustable waistband so that you can get the perfect fit every time.
They should also have no pockets. This is to reduce the potential of injuring fingers and thumbs when an opponent grabs for a flag.
Make sure to read our guide on picking the best flag football shorts.
FAQs For Flag Football Best Equipment
Do you need football cleats for flag football?
There is no rule that says you need football cleats for flag football. However, if you want to play competitively, cleats will give you a better grip on the ground and will help you move faster. If you're just playing for fun, any type of athletic shoes will work.
What kind of cleats are needed for flag football?
Flag football cleats are typically lightweight and have short rubber studs. The cleats help players grip the ground when making quick cuts or sprinting.
What football equipment is needed?
Football is a sport that is typically played without much equipment. Most players wear cleats, shorts, a football jersey, and a mouthguard. Others might choose to wear softshell helmets and padding for their knees and elbows. 
Read our guide on the best flag football helmets!
Final thought
Now you have got an idea of the needed equipment that you might need before playing a flag football match. Once you have the cleats, gloves, belts, mouthguard, flags, shorts, and jersey, you are all set to showcase your skills on the gridiron!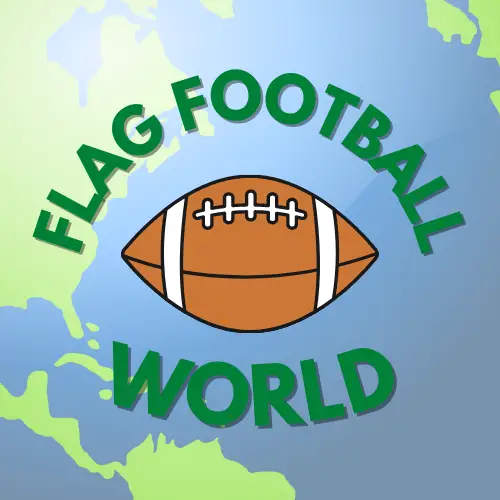 Vance J has played flag football since he was a boy. Since then, he has become a coach and a huge advocate for growing the sport. He loves to write and talk about flag football!