Are you overwhelmed with the thought of creating a youth flag football playbook? Don't worry, you're not alone. Many coaches struggle with determining the right number of plays to include.
But here's the secret: less is more. By focusing on quality over quantity, you can create a playbook that is effective and easy to execute.
In this article, we'll guide you through the process of building a playbook that will give you the winning edge on the field.
Key Takeaways
Focus on quality over quantity to maximize players' skill sets and ensure successful plays.
Keep plays easy to understand and execute, especially for younger players who may struggle with complex strategies.
Tailor the playbook to suit the age and skill level of the team, gradually introducing more complex plays as the team becomes comfortable.
Strike a balance between variety and confusion by selecting a few well-designed plays that work with the team's skill sets.
Youth Flag Football Playbook – Less is More
You should focus on having fewer plays in your youth flag football playbook, as less is more when it comes to simplicity and execution. The sweet spot is five or six plays to start and building to between 12 and 20 depending on the age group.
Of course, coaching 8-year-olds playing for the first is different than guiding seasoned teenagers. Adjust as needed.
In order to maximize your players' skill sets and ensure successful plays, it's important to keep your playbook concise and organized. By limiting the number of plays, you can ensure that your team understands and executes each play effectively.
Simplicity is also key. Young players may struggle with complex strategies, so it's important to keep the plays easy to understand and execute. By focusing on a smaller number of plays, your players can become more proficient in executing them, leading to better performance on the field.
It's essential to adjust your playbook based on the age group of your players. If you have players who are new to the sport or lack experience, it's important to simplify the plays and focus on the fundamentals. By gradually introducing more complex plays as your team becomes more comfortable, you can ensure that they're able to execute them successfully.
Youth Flag Football Playbook Formations
When designing your youth flag football playbook, formations are a major consideration. Here are some key points to consider when designing your playbook:
Importance of simplicity in youth flag football formations: Younger players may struggle with complex formations, so it's crucial to keep it simple. This will allow them to learn their positions and understand their role in the play more easily.
The benefits of using 1 or 2 formations in youth flag football: By focusing on a few formations, you can run multiple plays and variations from them. This will help the players become more familiar with the formations and execute the plays more effectively.
Utilizing option plays in youth flag football formations: Pass/run Option plays are a great way to confuse the defense and keep them guessing. By incorporating options into your formations, the kids will learn to run their positions effectively, and the defense will never know who'll get the ball.
When organizing your flag football playbook by formation, group together all of your plays by their respective player starting locations, or formation. For example, you can have a section dedicated to single back plays, a section for spread plays, another for bunch plays, and so on. 

– NFL FLAG
Teaching & Practicing Youth Flag Football Plays
Repetition is also crucial in helping kids remember different plays. By practicing the plays repeatedly, they will become more familiar with the movements and strategies involved.
As a coach, patience is essential. It's normal for young players to get confused or make mistakes while learning new plays. Stay calm, providing guidance and support to help them improve. Effective communication is key when it comes to teaching plays to young players.
Finally, use creative play names that stick in their minds to help kids remember what to do.
| Key Points | Strategies |
| --- | --- |
| Effective communication | Provide detailed instruction that makes sense but doesn't overwhelm young players. |
| Importance of repetition | Practice plays repeatedly to help kids become familiar with the movements |
| Creative play naming | Use fun and unique code-names or numbers for reference during practice |
| Age-appropriate play complexity | Start with simpler plays and gradually introduce more complex ones |
| Patience as a coach | Stay calm and patient, provide guidance and support to help players improve |
Tips for Putting Together a Youth Flag Football Playbook
During the process of putting together a youth flag football playbook, it's important to carefully consider the variety of plays and their effectiveness in different game situations. To ensure success on the field, you need to develop a playbook that covers all aspects of the game.
Here are some tips to help you create a comprehensive and strategic youth flag football playbook:
Offensive strategies: Focus on developing a balanced offense that includes a mix of running (if allowed) and passing plays. Incorporate plays that exploit the weaknesses of the opposing defense and create opportunities for big gains.
Defensive strategies: Create a strong defensive playbook that includes different coverages, including zone alignments. Teach your players the importance of positioning, flag-pulling, and reading the opposing offense. Adjust your defensive strategy based on the strengths and weaknesses of the opposing team.
Playbook customization: Customize your playbook to suit the strengths and skills of your team. Include plays that highlight the abilities of your players and maximize their potential on the field. Experiment with different plays during practice to see what works best for your team.
Effective communication: Ensure that your players understand the plays and their responsibilities. Emphasize the importance of clear and concise communication on the field. Encourage your players to communicate with each other during the game to make quick adjustments and capitalize on opportunities.
Game situation analysis: Analyze the game situations and adjust your playbook accordingly. Consider factors such as time on the clock, score, field position, and opponent's strengths and weaknesses. Develop plays that are specifically designed for pivotal game moments, such as fourth downs or two-minute drills.
It's also a good idea to email your flag football plays/playbooks to your parents ahead of time. The parents may actually have time to help you teach the play before your players even hit the field. 

– First Down Playbook
Building Up Your Playbook
Once your team masters a handful of plays, it's time to give them more.
To expand your playbook, try adding variations to existing plays so that you can keep the defense guessing and increase your team's offensive options without causing confusion. When working with experienced teams, it's important to continually challenge them and provide new strategic opportunities.
Customizing plays for individual strengths is also crucial in maximizing your team's potential. Consider the abilities and skills of your players and tailor plays to suit their strengths.
The quarterback's abilities play a crucial role in determining the plays and strategies you use. If the QB doesn't have a strong arm, you may need to rely more on quick passes. It's important to tailor the playbook to match the QB's strengths and abilities.
Strategic and creative thinking in playbook design is key to staying one step ahead of the defense and achieving offensive success. So, take control of your playbook and unlock its full potential with these strategies.
Frequently Asked Questions
How Can I Effectively Teach and Practice Youth Flag Football Plays?
To effectively teach and practice youth flag football plays, communicate clearly using concise instructions. Incorporate fun drills to engage players and adapt strategies to their age and skill level. Encourage active participation and teamwork, and simulate realistic game scenarios for better execution.
What Are Some Tips for Putting Together a Youth Flag Football Playbook?
To effectively organize your youth flag football playbook, use clear play terminology. Incorporate offensive and defensive strategies that suit your team's strengths. Design practice drills that reinforce these plays.
How Can I Gradually Build up My Youth Flag Football Playbook Over Time?
To gradually build up your youth flag football playbook, start with a step-by-step progression. Incorporate age-appropriate plays, developing a solid foundation. Introduce new concepts gradually, balancing simplicity and complexity.
How Should the Number of Plays in a Playbook Be Determined Based on Grade and Experience Level?
To determine playbook size, consider grade and experience level. Start with age-appropriate plays for beginners, gradually increasing complexity. Customize the playbook to develop player skills. Be strategic, detail-oriented, and knowledgeable.
Additional Resources & Reading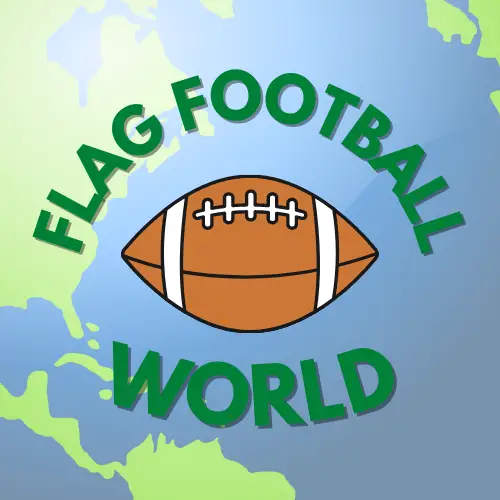 Vance J has played flag football since he was a boy. Since then, he has become a coach and a huge advocate for growing the sport. He loves to write and talk about flag football!