Believe it or not, flag football is one of the most played sports among young people in the United States. It is a variation of traditional American football, where the ball carrier is not tackled and, instead, the opponent must pull flags from their belt to stop them from advancing.
The sport has gained immense popularity in recent years, as flag football leagues have emerged all over the U.S. and around the world for youth and adults. Still, many people wonder why it was invented in the first place.
Here, we will discuss the history of flag football and how the sport came about.
Why Was Flag Football Invented?
The story of flag football's invention is just as exciting and captivating as any other great sports tale!
Flag football history goes as far back as the early 1940's and World War II when American troops were looking for a way to stay fit and entertained while they were not fighting and without the physical contact and risk of injury associated with tackle football.
In order to keep morale high among the soldiers, the commanding officers decided to organize friendly competitions between different units, which eventually evolved into full-fledged sports leagues. The sport was said to be invented on military bases in Fort Meade, Maryland.
As more troops returned home from war, many former soldiers brought flag football back with them. They began organizing youth leagues and adult leagues all across America, and the sport quickly became very popular.
Some also believe that flag football may have been invented or copied from a physical education teacher in the same time period to give students a safer alternative to the tackle game. In addition to flag football, many played the two-hand touch version of the game.
Today, flag football is played by millions of people around the world, from children to adults and even professional athletes. It is played in recreational leagues, on college campuses, and even the great Tom Brady got his start in football playing flag.
Popularity and expansion of flag football
Flag football has experienced significant growth and expansion in recent years, becoming one of the most popular alternative sports to traditional tackle football. There are several reasons for this growth and expansion, including the development of flag football leagues – most notably by the NFL – the expansion to youth and high school leagues, and the popularity among women, adult, and co-ed teams.
Growth of Flag Football Leagues
Flag football has grown quite a bit since the 1950s and 60s. Leagues can be found at the youth, recreational, college, and professional levels, providing players with the opportunity to compete at their own skill level. 
Many of these leagues offer organized schedules, playoffs, and championships, providing a sense of structure and competition for players. On top of that, players can compete in world tournaments against opponents from around the globe. There is even talk flag football could become an Olympic sport soon.
Youth and High School Leagues
The expansion of flag football to youth and high school leagues has been a significant factor in the growth of the sport. In youth leagues, flag football is seen as a safer alternative to traditional tackle football, while also providing a fun and engaging way for young players to develop their skills.
Most communities in the USA have access to an NFL FLAG, while many others have opportunities to play through local rec leagues and the YMCA. And, in recent years, some state high school associations have begun to recognize flag football as an official sport.
Popularity Among Women and Co-Ed Teams
Flag football has also become increasingly popular among girls, women and co-ed teams. This is due in part to the fact that the sport provides a safer and more inclusive alternative to traditional tackle football. 
Women and co-ed teams provide a unique opportunity for players of all skill levels to compete and enjoy the sport, regardless of gender. This has helped to expand the sport and increase its popularity, as more and more people are discovering the fun and excitement of flag football.
Women can even earn college scholarships at NAIA institutions that sponsor flag football teams for female athletes.
Flag football today
During the '70s, '80s, and '90s, flag football became popular across the country, and it is now played by people of all ages and ability levels. Many national organizations came about in the 1990s and 2000s to serve the millions who were playing flag football.
The sport has grown even more in recent decades as more information has surfaced about the brain injuries associated with playing contact football.
Today, there are countless leagues and tournaments dedicated solely to this fun and exciting sport.
Standardization of rules
As the sport has grown in popularity, the rules of flag football have been streamlined. While the rules in most leagues tend to be similar to traditional flag football, there are key differences in the sport of flag football.
The biggest difference is no contact allowed, including tackling, diving, blocking, and screening. Players wear flags that hang along their sides by a flag belt. To tackle the person in possession of the ball, the opposing team needs to pull one or both of their flags off.
Though players may opt to wear soft shell helmets, mouthguards, and elbow and knee pads, shoulder pads aren't allowed.
Flag football rules vary for different age groups, but some common changes include the number of players on the field, the length of the game, and the size of the field. For example, 7-on-7 flag football games are played with a twelve person roster, a 60-minute game split into four 15-minute quarters, and a field divided into four 25-yard boxes.
The game can be adapted for 5-on-5, 6-on-6, 8-on-8, 9-on-9, and 10-on-10 competitions with similar and different rules and changes in field size.
Major Flag Football Leagues and Tournaments
Flag football has become a popular sport, with many different leagues and tournaments established globally.
 NFL FLAG is the largest flag football organization in the United States, with leagues across the country and endorsed by NFL stars Russell Wilson and Deandre Hopkins.
Another popular league is AFFL, which has 7-on-7 games that are played over four 15-minute quarters.
The International Federation of American Football holds an international tournament every two years called the IFAF Flag Football World Championship.
USA Flag is another key player in the development of the sport. It offers opportunities for youth and adults to play in local leagues and tournaments, as well as regional and a national flag football tournament.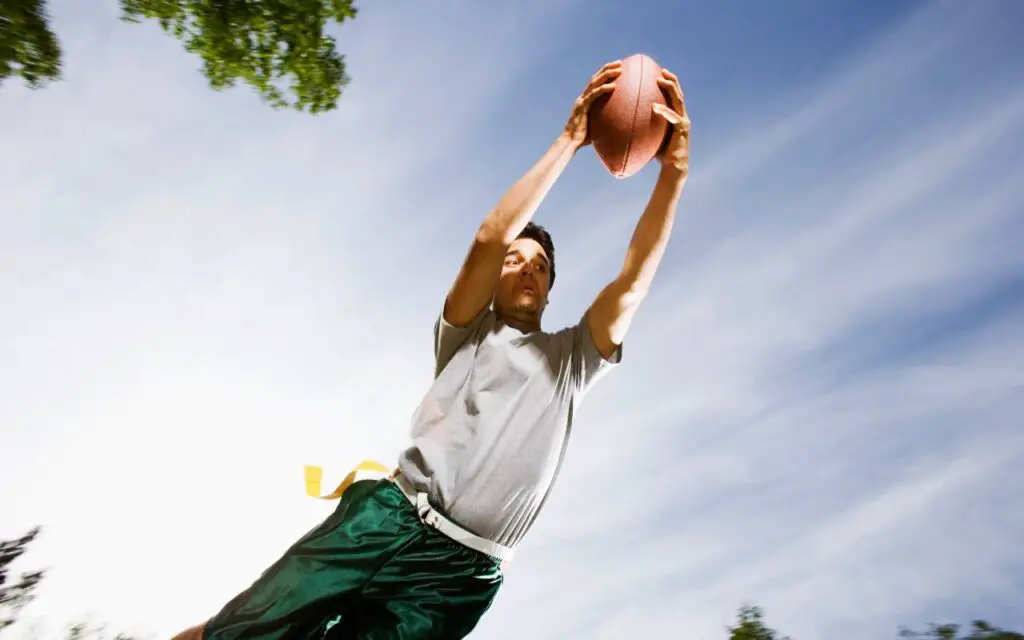 Importance of Flag Football in Physical and Mental Development
Besides being a fairly safe sport for all genders and skill levels, playing flag football can have many benefits for both physical and mental development of young people. As a highly competitive sport that demands practice and patience, it helps players develop their strength, skills, and speed.
This is a huge reason why flag football has grown in popularity.
Many different benefits can be gained from playing flag football, including improved fitness levels, cardiovascular health, and being more active overall. Additionally, this sport allows individuals to build their teamwork skills and build bonds with other members of their team. 
Beyond these benefits, flag football is also an excellent way for people to get outside and enjoy some physical activity in a social setting.
Future of Flag Football
The future of flag football looks promising as it continues to grow in popularity and expand to new leagues and tournaments. With the emphasis on safety over traditional football and the opportunity for physical and mental development, it is likely that the sport will continue to thrive and provide a fun and enjoyable experience for participants.
As technology evolves, the sport could be more preeminent in our society. As an example, electronic flags and belts have come onto the market, that makes it easier for officials to know the exact moment a player's flag has been removed.
As more people become involved, flag football will continue to evolve and further establish itself as a sport that is here to stay.
Frequently asked questions
A handful of FAQs and answers about the history and origins of flag football:
Who invented flag football?
No single person is credited with inventing flag football. Wikipedia erroneously suggests that Porter Wilson, an Arizona teacher, created the game. Instead, Wilson's contribution to the sport is developing a standardized belt and flag system worn by players. By all accounts, flag football was created in the military during WWII and evolved over the years.
What Is The Purpose Of Flag Football?
This sport was invented to allow individuals to play the game of football without having to worry about getting tackled and injured. Players can focus on the tactics and strategies of the game rather than worrying about being hit by an opponent.
What Are The Differences Between Flag Football And Touch Football?
The history of these two types of football can be traced back to different periods in time. Flag football was invented by American military troops during World War II, while touch football has its roots in the early 20th century.
The most significant difference between these two forms of football is the way that players are physically touched to stop them from advancing down the field. In flag football, defensive players must pull a flag attached to the player's belt if they wish to stop their opponent from scoring. 
In touch football, defensive players can make physical contact with other players in order to knock them off balance and slow them down.
The two games are very similar alternatives to tackle football.
Is flag safer than traditional football?
Flag football is generally considered to be a safer sport than tackle football, but there are still risks associated with playing the game. For example, players can still suffer concussions or other injuries.
To be safer, players may opt to wear protective gear such as a helmet and pads.
What is the most interesting historical fact about flag football?
The longest continuous game of flag football was 62 hours long, according to Guinness World Records. The game took place in Moose Jaw, Canada in 2015 and raised money for Children's Wish Foundation International.
Final thoughts
From its early days as touch football to its current status as a popular sport played by players of all ages and skill levels, flag football has come a long way. Whether you are a seasoned veteran or a newcomer to the sport, it's important to understand the rich history of flag football and its significance in our society. 
Now you know everything about how and why flag football was invented. At its core, flag football is a fun and exciting way for people to enjoy the sport of football.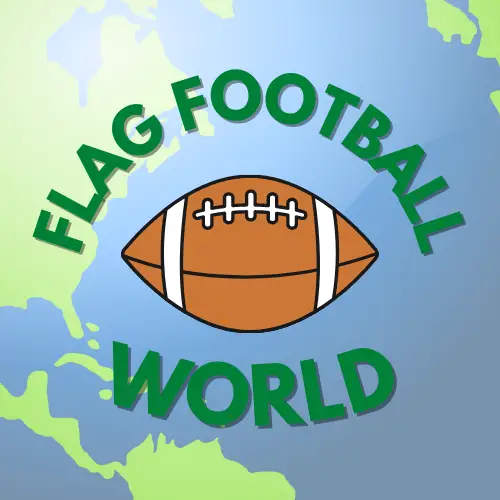 Vance J has played flag football since he was a boy. Since then, he has become a coach and a huge advocate for growing the sport. He loves to write and talk about flag football!