For girls who love the game of football but would rather avoid heavy contact that comes with playing against boys their age, flag football is a great alternative to tackle.
Besides that, flag football is a great way to exercise and participate in a fun team sport. Unlike regular football, there is no risk of injury because you don't tackle or block other players.
Additionally, flag football is open to girls of all ages and skill levels, with community leagues available through the YMCA, recreation departments, and public schools.
It doesn't matter if you've never played before. Here are five reasons why you should start playing flag football.
Why You Should Girls Start Playing Flag Football?
1. It's an easy way to stay active.
While sports like soccer, lacrosse and field hockey are terrific sports for girls, flag football is a rewarding alternative.
Although it's called football, a major part of flag football is running and juking your way down the field to score points. This can be very physically demanding and a great way to work up a sweat outside.
Because finding time for regular exercise isn't always easy, playing flag football can help you get moving without any special equipment or fancy gym memberships. Plus, if you enjoy running with friends and staying fit together, team sports like this are hard to beat.
2. It's a great stress reliever.
Stress can really get in the way of having fun or being productive during the day – often, when we feel overwhelmed by stress, we either stop wanting to do things or just don't do them well. 
Luckily, flag football is a great way to relieve stress. Because it requires you to stay focused on the game, it can help clear your mind and make you feel less stressed out in an active sense. This means you might feel more energized and ready to take on other tasks when you return from playing.
3. It's very social.
Although many people think of sports as being purely physical and competitive, this isn't always the case for every sport – especially not women's and girls' flag football. Instead, flag football tends to be heavily based on teamwork, cooperation, and communication between players, making it a more fun overall experience, even if you aren't the best at it. 
Plus, if you want to compete with your friends while playing, flag football has tournaments and leagues that you can join if you want. Some states, like New York, even offer flag football as a high school sport.
4. It's a great low-impact sport for any body type.
One of the most appealing things about flag football is that it can be very accessible for girls with various body types. 
Because tackling isn't involved in the game, players don't need to worry about getting injured by other people or having their bodies judged. This means that anyone – regardless of size or fitness level – can feel confident playing on a team and having fun doing it!
5. It focuses less on physical appearance.
If you've ever played a sport before, you know that it can be easy to feel self-conscious about how you look when you play. Especially for girls, this can make it harder to focus on the actual game and have fun with friends. 
Luckily, because flag football is so focused on teamwork and communication between players rather than individual skills, women in this sport don't have to worry much about their bodies or looks.
What Is Girls Flag Football?
Flag football is a fast-paced game that has some similarities to regular football but also many differences. Like regular football, flag football involves passing and running the ball in the open field to score touchdowns.
However, unlike regular football, women's flag football does not involve tackling. Instead, each player wears a colored flag at their waist that they must protect from being pulled off by opposing players. 
This makes the game much safer than standard American football. Although some girls participate in tackle football at a young age, it's not for everyone – even if you love football as a sport.
The Future Of Flag Football: Will Girls Soon Dominate The Sport?
1. The popularity of girls' flag football is rising fast
According to the most recent statistics from the National Federation of State High School Associations, participation among girls in flag football grew to more than 15,000. That is an increase of 4,000 over previous years. Unfortunately, many other female sports – including softball and volleyball – are declining participation rates. 
There may be several reasons for this shift in popularity: increased awareness of the sport, thanks to its growing mainstream media coverage, and more opportunities to compete at higher levels via youth and high school leagues. 
This is also because many young women enjoy challenging themselves physically and competing against their peers equally. It seems that flag football will continue to gain in popularity as many girls discover the thrill and excitement of this fast-paced sport.
2. More college scholarships are now available for female flag football players
As more young women take up flag football, colleges and universities have started noticing – and they're rewarding them with scholarships. There are 15 NAIA colleges that have women's flag football teams. These schools offer scholarships for their student-athletes.
Many other colleges and universities offer club and intramural sports, with a strong likelihood that NCAA-sanctioned teams will soon emerge.
3. Women who play flag football are more fit than women who don't
One of the most apparent benefits of playing any sport is fitness: it keeps you in shape, helps you stay healthy, and gives you a source of physical and mental enjoyment that can last a lifetime. 
This is especially true for female athletes, many of whom seem to be under the misconception that lifting weights or engaging in other types of "heavy" exercise will make them bulky or masculine looking – when in fact, doing so will help them tone up with lean muscles and develop more strength. 
Flag football requires high levels of speed, strength, and agility from its players. To succeed in the sport, you need a strong body, which often results in women becoming much more toned and fit than those who don't play any sports.
4. Women players can make as much as their male counterparts or even more!
While it is true that there are still some countries where women earn less than men for doing the same jobs. 
Many female athletes now have equal pay rights thanks to legislation such as Title IX – which also applies to female flag football players. Women are rewarded financially similar to men when they win tournaments like the ones sponsored by the Women's AFFL.
Women also compete in flag football at the World Games and could be Olympic competitors soon in the sport.
And because of their increasing numbers on the field, they are starting to become valued by colleges, universities, and other institutions in much higher regard;. This trend is likely to continue as more and more women discover the benefits of playing this growing sport – which could soon make them millionaires.
5. Playing flag football may prevent breast cancer
While research on this subject is still ongoing, there seems to be a connection between regular physical activity and reduced chances of getting certain cancers. 
Several studies have shown that women who regularly engage in moderate or intense exercise – such as weekly games of flag football with friends – are much less likely to develop breast cancer than their sedentary counterparts. 
With so many other benefits to playing flag football, it's something that every woman should consider – and not just for fun!
How To Get Started Playing Flag Football For Girls?
To get started with flag football for girls, you first need to find a team. This can be done in various ways: you can ask your friends who are already playing if they can recommend a team or join an existing one.
Another option is to reach out to local sports organizations through social media and see if they have any information about teams that may be open to new players. Most organizations, like the YMCA or rec centers, also offer clinics or beginner classes that will provide more information about how to get started with flag football and give girls the opportunity to meet other players before joining a team.
You may also want to check with the International Women's Flag Football Association, whose mission is to "provide an opportunity for all females regardless of race, nationality, age, skill level, economic status or sexual orientation to enjoy healthy competition, have fun, and develop teamwork skills." The IWFA offers tournaments, clinics, and promotional tours.
Once you've found yourself on a team, it's time for some fun! Flag football for girls offers many benefits, including helping develop leadership skills, making friends, and getting a great workout. Here are some of the reasons why you should start playing flag football today:
1. Leadership Skills: 
Being part of a team requires communication and teamwork – two skills that help prepare girls for future leadership roles. Playing sports helps develop these skills by teaching players how to work together toward a common goal.
2. Social Skills: 
Flag football is a great way for girls to meet new people and make friends in the community. Whether bonding with teammates or meeting other players on the field, flag football provides ample opportunity for social interaction between girls from all backgrounds and ages.
3. Exercise: 
One of the most apparent benefits of playing flag football is exercise! This sport is a great way to get into physical activity while having fun and making friends. Playing on a team also allows girls to stay active throughout the week, leading to better overall health and fitness.
4. Fun Activities: 
While flag football may initially seem intimidating, it's a straightforward game to learn and play. This means even beginner players can quickly pick up the rules and enjoy themselves immediately! Whether playing with your friends or joining others on the field, flag football offers endless opportunities for fun and excitement.
5. The Chance To Be A Role Model: 
Finally, the best thing about playing sports is that you get to be a role model for other young women and girls just starting. Whether you're on the field or cheering from the sidelines, you have an opportunity to inspire girls and help them see what's possible for themselves in terms of athleticism and achievement.
What Equipment Do You Need To Play Flag Football?
There are a few things you need to play Flag Football, girls.
Cleats: The first and most important equipment is a good pair of cleats. Your feet will move quickly when you're running, so good traction on the ground is essential. You can get away with wearing tennis shoes in a more casual game, but if you want to really compete and take your game to the next level, investing in some cleats is definitely worthwhile.
Pads: You also need to have pads. This doesn't just mean football pads; you should wear knee pads, shin guards, and elbow pads as well. You may also consider wearing a helmet. While these won't give you any extra protection if someone tackles you on a tackle flag football field, they do keep your joints safe from bruises and other minor injuries.
A ball: Of course, you need a football! Make sure that the ball you're using is regulation-sized and fully inflated; this will help ensure that it's balanced and easy to grip. A smaller or deflated football makes it harder to play.
Safety Gear: Finally, you'll need some safety gear. Since this is a contact sport, it's important to have a mouth guard and some protective eyewear. Wearing these items may feel awkward at first, but they're essential for your safety on the field!
Learn more about the best shorts for flag football.
Get Started With Flag Football Girls Today!
Flag football is a  fun and competitive sport for girls that requires some basic equipment, including cleats, pads, a football, and safety gear. 
Whether you're looking to take your game to the next level or simply enjoy playing with friends in a casual setting, this sport has something for everyone. 
Flag football opportunities are growing so much for girls and women that you're sure to find good competition near your home.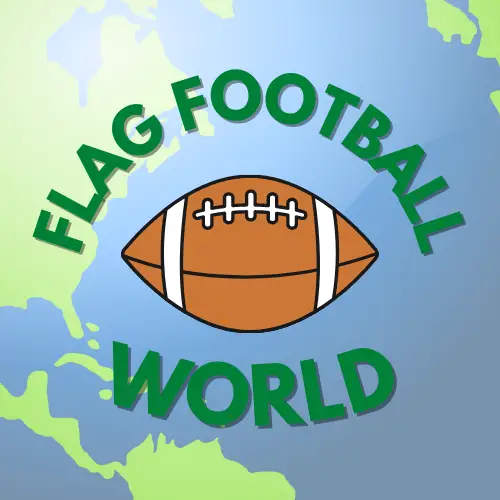 Vance J has played flag football since he was a boy. Since then, he has become a coach and a huge advocate for growing the sport. He loves to write and talk about flag football!