Do you love the thrill of playing football but don't want to risk getting hurt? Flag football is the perfect solution for adults who want to stay active with the sport without aches and pains.
It's a lot of fun and can be enjoyed by people of all ages. And today, we will discuss everything you need to know about flag football opportunities for adults
We will cover the history of the sport for adults, how to play, and answer some basic questions you may have about the sport. So, let's get going!
First, a brief history of adults in flag football
The origins of flag football can be traced back to the 1940s when members of the military during World War II wanted a safer version of American football to play in their downtime.
The sport has grown in the USA and around the world through the years, with the NFL playing a huge role in helping kids stay active by playing flag.
However, in recent years, it has become increasingly popular among adults. This is because of its lower risk of injury compared with traditional tackle football. 
Today, there are numerous local and regional leagues and organized tournaments for adults who want to play flag football. In addition to local competitions, national and world organizations host large-scale tournaments for competitive adults. Teams from around the globe compete in the World Games and IFAF Flag Football World Championship.
Adult Flag Football Opportunities
There are many different things to consider when getting started in flag football. But the first and most important is finding a good league or program that suits your individual needs. 
If you're looking for an indoor league, check with local community centers, gyms, and other facilities to see if they have any offerings.
For outdoor leagues, you can start by scouting out nearby parks and sports fields to find the perfect spot to play. 
You may also want to consider joining an adult recreational sports league or group in your area that focuses specifically on flag football
This is so that you can meet other people who share your love of the game and possibly even form a team of your own!
Finding a good league or team to play with in your city, town, or neighborhood shouldn't be too difficult. Contact your local recreation center or YMCA. You can also do an online search for adult flag football in your area or ask around on city or county Facebook groups.
Opportunities to play flag football for adults exist everywhere for men, women, LGBTQ+ identities, and even co-ed options of all skill and experience levels. You can even get your own game together with friends in the backyard or nearby park.
For true competitive opportunities, check out USA Flag or the American Flag Football League.
Why play adult flag football?
If you're an adult who loves the NFL or college or you were a traditional football player in your younger days, then flag football might be the perfect activity for you. Not only is it a great way to get some exercise and have fun, but it's also a lot safer than many other sports, thanks to its emphasis on safety and protection. 
Unlike many other sports that involve tackling and physical contact, there is little risk of injury in flag football. This means that even if you're not in top shape or haven't played in a while, you can still enjoy the benefits of the sport without worrying about getting hurt.
In addition to being safer than many other sports, flag football is also great for improving your physical fitness. It requires a lot of running and fast movements, which makes it an excellent way to get some cardio exercise and tone those muscles.
On top of that, playing will give you the opportunity to meet new people and make friends. This is great for someone new to a community.
With all the benefits that come with playing flag football, it's not hard to see why so many adults love this sport.
What you will need to play
There are also several other things to consider when getting started. One of these is choosing the right type of equipment for playing flag football. 
You don't need a lot. You only really need a flag belt and flags if not provided by your league, a good pair of shorts or sweatpants without pockets, and comfortable sneakers or cleats for your feet. For extra protection, you can wear knee and elbow pads, a mouthguard, and even a softshell helmet.
A jersey, T-shirt, or pinny should be provided by the league.
While you may be able to borrow some items from a friend or family member at first, you'll eventually want to invest in your own gear so that you can take your game to the next level and play as comfortably and safely as possible.
Finally, be sure to have plenty of water or sports drinks on hand to help keep you hydrated during your games.
How Do You Play Flag Football?
The basic rules of flag football are similar to those of traditional tackle football. However, rather than tackling players to bring them down to the ground, players must try to remove an opponent's flag in order to stop them
The offensive team will typically have four plays with which they can attempt to score by moving the ball for a first down or into the end zone. If they succeed in picking up enough yardage, the team earns another set of four plays, while if they fail, their opponents get the ball.
The strategies used in flag football are quite similar to those of traditional tackle football. The offense typically tries to overwhelm the defense with a running or passing attack. While the defense will try to contain these attacks and get turnovers.
Typically, the field size for flag football is much smaller than a traditional football field that is 100 yards long and 53 yards wide. Using cones and painted lines, the size of the field can be modified based on the number of players participating.
The most common formats for flag football are 5 on 5, 7 on 7, and 9 on 9.
As with most sports, teamwork is very important in flag football and can often determine who comes out on top.
FAQs – Flag Football Adults
Is flag football a growing sport?
Flag football is definitely growing in popularity. The number of people playing flag football has more than doubled in the last decade.
There are a few reasons for this growth. For one, flag football is a great way to stay active and have fun without having to deal with the pain and brutality of tackle football. It's also a lot less dangerous, so it's a good option for families with kids. And finally, flag football is just a really fun sport that anyone can play.
Is flag football safer than tackle?
There is no easy answer to this question. In general, flag football is considered to be a safer sport than tackle football, but there are always risks associated with any contact sport.
One of the biggest dangers of tackle football is the risk of head injuries. This is a particular concern with young players who may not have fully developed their cognitive skills yet and may be more prone to concussions and other types of head injuries. Flag football does not involve tackling or contact, so it reduces the risk of head injuries.
However, there is still a risk of injury in flag football, particularly if players are not paying attention to the game and are not following the safety rules. 
Can you get hurt in flag football?
Flag football is a much safer sport than tackle football. With no helmets and limited padding, the players are less likely to suffer serious injuries. However, there is still a risk of injury, and players should take precautions to protect themselves.
Some of the most common injuries in flag football include bruises, strains, and sprains. Players can reduce their risk of injury by wearing appropriate clothing and gear, following the rules of the game, and using good judgment when making tackles or blocks.
Start Playing Flag Football For Adults Today 
This was a guide on how to play flag football adults. If you love American football but are concerned about injury, flag football for adults is just what you need. It is safe, similar, and just as fun. 
So, what are you still waiting for? Head over to your nearest rec center or sports facility and try out the sport for yourself.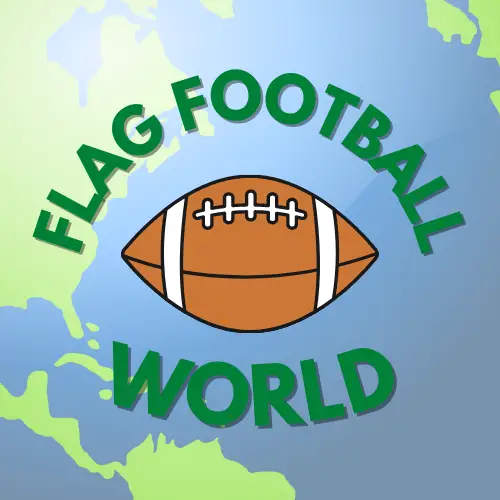 Vance J has played flag football since he was a boy. Since then, he has become a coach and a huge advocate for growing the sport. He loves to write and talk about flag football!