It's a question that has been asked by many, but answered by few: is there punting in flag football? After all, it can be quite the conundrum. 
You want to play the game you love with your buddies – while still staying safe and having fun! But how do you decide whether or not to punt? 
Well, I'm here to help ya out. Let me lay down the law on punting in flag football so we can get back to what matters most: enjoying ourselves and living life freely.
Can you Punt in Flag Football?
Flag football is a variation of American-style tackle football, but with some key differences. Most notably, tackling players to the ground isn't allowed – instead, defenders must "tag" or pull a flag off an offensive player's belt in order to stop them from advancing. But what about punting? Does this rule apply in flag football too?
The answer depends on which league you're playing in. There are several different variations of the punting rule when it comes to flag football: Some leagues don't allow any kind of kicking, while other organizations might let teams punt at any time during the game. 
Ultimately, it all comes down to the specific rules set forth by the governing body for each particular competition.
If you're playing with friends in the backyard or at the park, it's really up to you if you want to punt or not.
What is a Punt?
Let's define exactly what "punting" means in this context. Punting refers to kicking the ball away after receiving possession of it at any point during a game of flag football. It usually occurs when an offensive team is facing a fourth down and believes they won't make enough yardage from their current position and decides to kick it away instead.
Purpose Of Punting In Traditional Football
Punting is a key part of the game in traditional football. The purpose of punting is to gain field position by kicking the ball away while hopefully giving up as little yardage as possible on a return. 
Punters attempt to kick high and deep so as not to allow returners much chance at catching the ball and running it back for a score.
The main goal of any punt play is twofold: maximize distance, and minimize return yards. It's important for all players involved – especially blockers – to stay focused on minimizing returns and pushing forward toward an advantageous field position for their team before they can even think about scoring points again.
Flag football Punting Rules
The offensive team has the option to punt on 4th down from a protected scrimmage. While punting, the defense is prohibited from crossing the scrimmage line and can only attempt to block the punt by jumping vertically on their side of the field.
For the punting team, all players except for the punter must be on the scrimmage line and cannot move until the ball is kicked. If the punt travels beyond the scrimmage line and contacts a player from either team before hitting the ground, possession of the ball goes to the receiving team.
As with all flag football plays, no contact is allowed between players during a punt and return and the player returning the punt is stopped when their flag is removed.
Alternatives when Punts are not Allowed
If punting is not allowed in a flag football game, there are alternative rules that can be used to move the ball down the field. Here are some options:
Instead of punting on fourth down, the team can attempt to gain the necessary yardage for a first down. If they are successful, they get to keep possession of the ball and continue moving down the field.
If a team faces a fourth down, they can opt to turn it over to the other team at their own 5-yard line. This alternative is commonly used in NFL FLAG games.
Benefits And Drawbacks Of Punting In Flag Football
Punting in flag football has its advantages and disadvantages. On the plus side, punts can be used to pin an opponent deep within their own territory; this is especially effective when a team doesn't have good offensive personnel or they are playing against a strong defense. 
For the receiving team, punt returns also offer the opportunity to gain field position quickly, which can result in points if executed properly.
On the downside, punting requires proper technique and timing from both the kicker and other players on the team who must halt the return effort. Also, there is always the risk that a punt might be blocked by an opposing player or returned for a touchdown. This could end up costing your team crucial points at any stage of the game. 
In flag football, punting should only be considered when it's absolutely necessary due to the potential risks involved.
While there are pros and cons associated with punting in flag football, it ultimately comes down to personal preference and strategy employed by each coach depending upon how they want their team to play the game.
Learn more about flag football basic rules!
How To Execute A Properly Punted Ball
A properly executed punt is a thing of beauty – and with the right technique, you can still enjoy all the excitement that comes from kicking the ball long distances downfield.
The key to executing a good punt is body position and timing. You need to get into a good stance before striking the ball, keeping your back straight and shoulders square. Then, as you swing your leg through, keep your hips low while maintaining an even tempo throughout the entire motion. 
Make sure when practicing that you're punting accurately too; if you're aiming for one spot but always hitting another then something needs changing in either your approach or alignment. 
Getting these two elements right will give you greater control over where the ball ultimately ends up – giving defenders less time to react and counter-attack.
Learn more: Does Flag Football Have Field Goals?
Training Tips For Punters
Now that you know how to execute a properly punted ball, let's look at some training tips. First and foremost, practice makes perfect when it comes to punting. Every day should include drills focusing on technique, accuracy, and overall strength.
Second, work with coaches or mentors in order to improve your skills as a punter. This could be someone who has played the position professionally or someone who is extremely knowledgeable about football in general. They can help provide insight into situations you may not have considered before.
Third, watch film or YouTube videos of successful kickers from around the league and analyze their techniques. You can learn a lot just by watching others play the game.
Common Mistakes To Avoid When Attempting To Punt A Ball
It's important to learn proper punt techniques and avoid common mistakes. 
First off, don't try to kick the ball with your toe; that'll make you miss the ball most of the time. Instead, use your laces or instep for better accuracy. 
Be sure to keep your knee bent when you kick so that you can get good power behind it. And finally, never take a full swing at the ball; instead, focus on making crisp contact with it while snapping both your hips and ankles forward as much as possible.
If you wanna have success punting a football, these are all things ya gotta remember: always aim low and hit high by striking with your laces or instep, bend your knees, and snap those hips and ankles forward hard! Doin' this will give ya more control over where the ball goes than if ya tried to just boot it like an old-timey cannonball!
Final Words
Whether or not punting is allowed in flag football ultimately depends on the rules of the league or tournament being played. While some organizations may allow punting as a viable strategy to move the ball downfield, others may prohibit it altogether in favor of alternative rules that keep the game more fast-paced and exciting.
In most instances, from youth to adult leagues, punting is not part of the game. Even if punting is permitted, it may be a better decision in some instances to go for a first down on offense and maintain possession of the ball. This is especially true if you don't have the personnel to execute successful punts.
Whatever the case, punting is not essential for a flag football game to run smoothly and for the players to have an enjoyable time.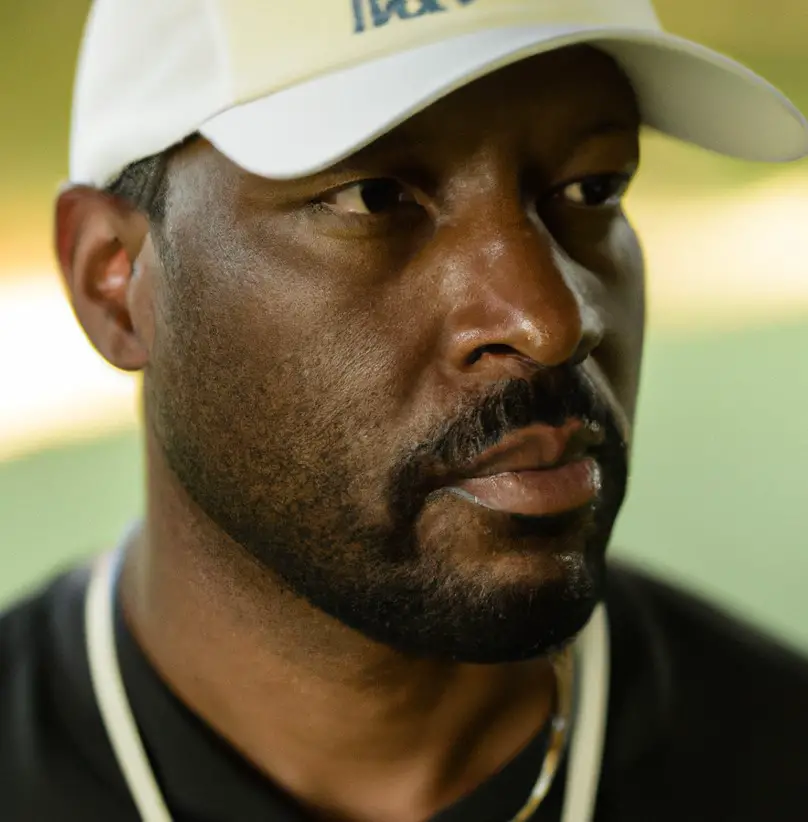 Marquel Williams is a highly regarded flag football coach with over a decade of experience in the sport. He is dedicated to developing young flag football players and helping them reach their full potential. Throughout his coaching career, Marquel has won hundreds of games, showcasing his expertise in player training, game planning, and motivating his teams.