Flag football and touch football are two popular sports in America, but what is the difference between them? In this article, we'll explore the differences and similarities between the two forms of football so that readers can make up their own minds about which one they prefer.
The main difference when comparing flag and touch football is physical contact. Flag football limits physical contact to pulling flags off players' belts while touching or tackling someone results in an immediate penalty. Conversely, touch football allows for more physical play as long as it doesn't cross certain boundaries set by referees.
Both forms of football offer unique experiences that appeal to different types of people depending on their preferences. By considering all the factors involved, you will be able to decide whether you would rather play flag or touch football.
Explanation Of Flag Football And Touch Football
Flag football and touch football are two popular variations of the classic game. Flag football is a no-contact version of American tackle football, where players wear flags and ball carriers are stopped when their flag is removed by an opponent. The aim is to remove physical contact from the sport while still maintaining its core elements. 
Touch football emphasizes passing over running, with teams trying to move the ball upfield by throwing it or "tossing" it rather than carrying it. Players must use one or two hands only to make contact with an opponent in order to stop them from advancing with the ball; otherwise, tackling is not allowed.
Both versions provide great fun for all ages and abilities, requiring teamwork and strategy as well as athleticism. Both games also offer exciting ways to enjoy competitive sports without risking serious injury.
Differences Between Flag Football And Touch Football
The most obvious difference is that touch football involves physical contact with opponents. Players are typically allowed to use their hands to block or tackle one another, although full-contact tackling is not permitted due to safety concerns. 
In contrast, flag football does not involve any physical contact at all; players must pull a flag off an opponent in order to stop them instead of making a tackle.
Touch football does not require any kind of equipment other than a football to play with. This makes it a game that can easily be played in the backyard, park, sandlot, or dead-end street. Flag football requires belts and flags.
Touch football is typically popular as a pickup game among friends while flag is normally more organized and played in official tournaments and leagues.
What's similar? Generally speaking, both games can be played on similar-sized fields with teams of four to 11 players each.
Learn more: Differences Between Flag Football and Rugby
Benefits Of Playing
Flag and touch football both offer a range of physical and mental benefits that make the game highly appealing. Physically, they are less strenuous than traditional tackle football as they involve little contact between players; this means there's no risk of injury caused by tackling, blocking, and pushing. This makes it an ideal sport for people of all ages to play and have fun with friends.
Mentally, playing flag and touch football can help build teamwork skills as well as confidence in one's ability to strategize and compete. The strategies involved in the game require focus and problem-solving skills, which encourages participants to think on their feet while having fun at the same time. Moreover, flag and touch football require players to work together towards a common goal – scoring points – so it helps promote camaraderie and good sportsmanship among teammates.
Aside from these advantages, playing flag and touch football has also been found to improve cardiovascular health due to its fast-paced nature. It increases agility – both mentally and physically – improves coordination, builds endurance, and enhances hand-eye coordination.
Places To Play
Finding a suitable place to play can mean scouring local parks, sports complexes, school playgrounds, or even backyards. Depending on your location and the resources available, these areas may provide opportunities for both games.
Leagues and Tournaments Available To Join
Depending on the area you live in, there may be different opportunities that cater to all ages of players. Generally speaking, most flag or touch football leagues will have an age requirement for participation.
For those looking to join a league or tournament as part of a team, it's important to look into what's offered locally, as well as any national organizations (like NFL Flag) that provide competitions across the country. 
There is usually no shortage of options when it comes to joining a team; from recreational leagues with low commitment levels to highly competitive teams that require more dedication and practice time. 
It can also be beneficial to research what type of rules each organization has before signing up. This can help ensure that the team follows the rules set forth by their governing body.
No matter if someone is just getting started playing either flag or touch football, or they've been involved in organized sports for years – there are plenty of opportunities out there for everyone! With some research and effort, anyone should be able to find a local league or tournament suitable for their skill level and interests.
Related: Differences Between Flag Football and Tackle Flag Football
Safety Tips To Keep In Mind When Playing
Whether you're playing flag or touch football, it's always wise to take precautions in order to stay safe while having a good time. There are several safety tips that players should keep in mind whenever they step onto the field.
First of all, wearing protective gear such as a softshell helmet and knee and elbow pads can help prevent injuries due to contact with other players. It's also beneficial to warm up before starting the game by stretching your muscles and doing light exercises like jogging around the field.  Additionally, make sure that you hydrate throughout the game in order to remain alert and energized.
If at any point during the game you feel tired or experience pain, be sure to stop and rest for a few minutes before continuing with play.
Conclusion
Flag football and touch football are two different sports with many similarities. Both require minimal equipment to get started but may necessitate more depending on the league or tournament you join. 
Whether you choose to play flag or touch football, you're sure to have tons of fun with your friends and family! So gather up some people, pick out a playing field, decide which game you want to play, and have an awesome time! 
Good luck and stay safe when playing these great sports.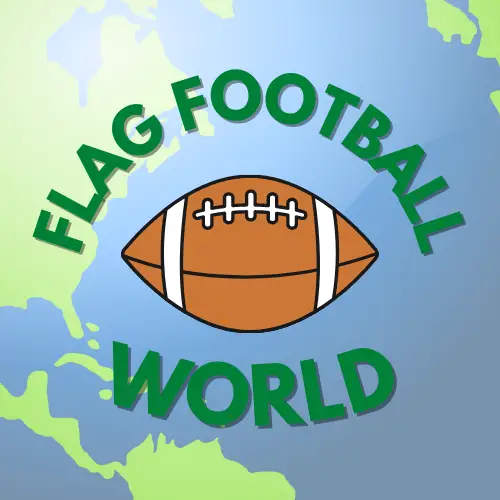 Vance J has played flag football since he was a boy. Since then, he has become a coach and a huge advocate for growing the sport. He loves to write and talk about flag football!