If you're as obsessed with flag football as I am, you know that understanding the game inside and out is crucial for players, coaches, and even the most dedicated fans. And what's one of the most important aspects of the game? 
Field dimensions!
You might be wondering why the size of the field matter so much. Well, let me tell you, it can make a huge difference in how the game is played. 
Whether you're a lightning-fast receiver looking to create space or a crafty coach devising a game-winning strategy, knowing the ins and outs of the field can give you a serious edge over the competition. Plus, for fans, having a solid grasp of the playing area helps you appreciate the nuances of the sport and makes watching games even more enjoyable.
So, are you ready to dive into the world of flag football field dimensions? Let's go! In this article, we'll explore everything you need to know, from the official measurements to how field dimensions impact gameplay.
Official Flag Football Field Size 
Length and Width of the Field
Youth Leagues: Alright, let's start with the little ones! In youth flag football competitions, the field dimensions are often more compact to accommodate the younger, smaller players. You can expect to see field lengths between 60 and 80 yards, with widths around 20 to 30 yards. NFL FLAG, the most popular league for youngsters in the U.S. has a field size of 70 by 30 yards. This smaller field size helps our future stars develop their skills and makes the game more accessible for them.
Adult Leagues: Now, on to the big leagues! For adult flag football, the field dimensions expand for the larger, faster players. Standard field lengths range from 80 to 100 yards, while widths typically span 40 to 53 1/3 yards. Some leagues even opt for a full regulation-size football field—talk about serious business!
Varying Regulations: Remember, my fellow flag football enthusiasts, that rules and regulations can vary depending on the league or organization. So, always make sure to double-check your specific league's guidelines before stepping onto the field.
End Zones
End zones are your best friends if you're looking to score some points and win the game! Typically, they measure 7.5 to 10 yards deep in both youth and adult leagues. However, the width will vary depending on the overall field width.
What sets flag football end zones apart? Well, most importantly, they're "no running" zones within five yards of the goal line. This is done to minimize physical contact and potential injury to players.
Learn more about field lines and rules!
Comparing Flag Football Field Dimensions to Other Football Fields
Differences between Flag Football and Tackle Football
Field Size Variations: Let's talk tackle football for a second. While both flag and tackle football share the same origins, they do have some differences when it comes to field dimensions. Tackle fields are typically larger, with a standard size of 100 yards long and 53 1/3 yards wide. Compare that to adult flag football fields, which can range from 80 to 100 yards long and 40 to 53 1/3 yards wide.
Impact on Gameplay: The larger field size in tackle football means there are more players on the field with more ground to cover, which can influence strategies and play styles. For example, in flag football, the smaller field size often promotes quicker, more agile plays, while tackle football might see a greater focus on powerful running and deep passes. The two games might share a love for touchdowns, but they each have their unique flavor on the field.
Comparing Flag Football to Other Football Variations
Arena Football: Arena football takes place in—you guessed it—an arena! These fields are significantly smaller than flag and tackle football fields, measuring around 50 yards long and 28 yards wide. This compact playing area leads to a faster, high-scoring game with a strong emphasis on passing. It's like football on turbo mode!
Touch Football: Touch football is like a cousin of flag and tackle football. The main difference between touch and flag football is that instead of pulling a flag, players need to touch the ball carrier with one or both hands to end a play. Field dimensions for touch football can vary widely, from smaller, informal fields to full-size tackle football fields.
Rugby: While not exactly football, rugby shares some similarities with American football. Rugby fields are larger than flag football fields, measuring around 100 meters long and 70 meters wide. While rugby doesn't have end zones like flag football, it does have "in-goal" areas for scoring tries. The larger field size and unique scoring system make rugby a fascinating and physically demanding sport.
How Field Dimensions Affect Gameplay
Alright, let's talk strategy! Field dimensions play a significant role in how players position themselves and make decisions during a game. On smaller fields, players need to be more aware of the limited space and make quicker, more precise movements. Conversely, larger fields provide more room for players to spread out, allowing for more strategic offensive and defensive plays.
The size and shape of the field impact how receivers run their routes and how defenders cover them. Smaller fields may require shorter, quicker routes, while larger fields might encourage longer, more elaborate patterns. Defenders, on the other hand, need to adapt their coverage techniques to account for the unique dimensions of the field and the routes they're up against.
Field dimensions can also affect how coaches manage their players. Depending on the size of the field, coaches might prioritize speed and agility for smaller fields or lean more toward strength and endurance for larger fields. Managing player rotations and substitutions effectively can be the key to maintaining peak performance throughout the game.
Adaptation to Various Field Sizes
Both players and coaches need to be adaptable when facing different field sizes. Teams may need to tweak their game plans, adjust offensive and defensive strategies, and reevaluate their strengths and weaknesses. This ability to adapt is what separates good teams from great ones!
Ensuring Fair Competition
It's essential to make sure that field dimensions don't give one team an unfair advantage over the other. Leagues and organizations should strive to establish clear guidelines and standardized field sizes to ensure that all teams have an equal opportunity to showcase their skills and enjoy the thrill of competition.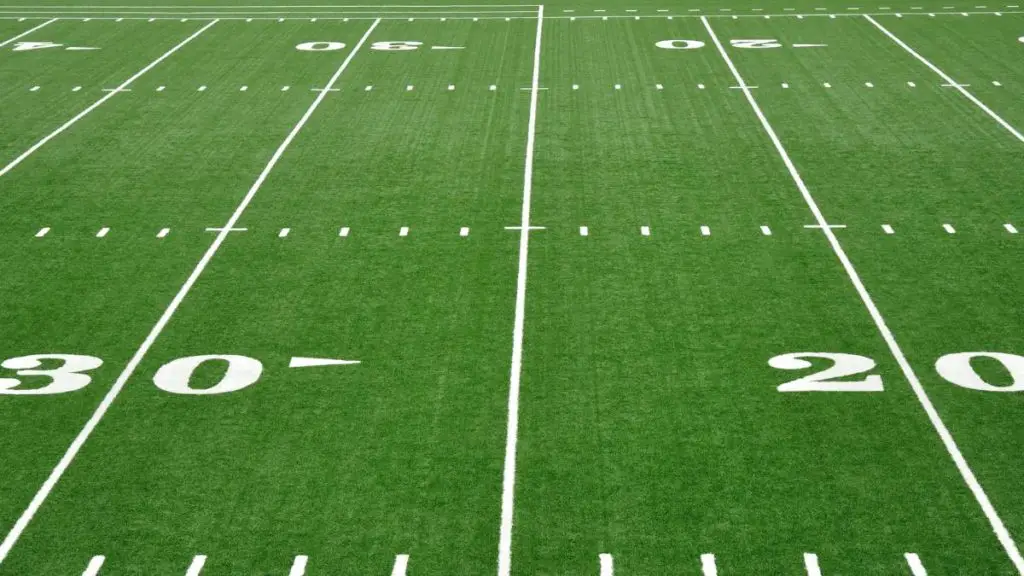 Setting Up a Flag Football Field
Ready to set up your very own flag football field? You'll need some essential tools and materials to get started. Here's a quick checklist:
Measuring tape or wheel
Field marking paint or chalk
Stakes or cones
String line
A field diagram for reference
Flags or pylons to mark the corners and end zones
Step-by-Step Guide
Follow these simple steps to mark your field boundaries and lines like a pro:
Measure the length and width of your field according to your league's specifications.
Mark each corner of the field with stakes or cones.
Using your string line as a guide, paint or chalk the sidelines and end lines.
Measure and mark the end zones' dimensions, typically 10 yards deep.
Paint or chalk the end zone lines and place pylons at each corner.
Measure and mark the hash marks, usually spaced one yard apart, and/or larger lines spaced 5 yards apart that cover the width of the field.
Finally, double-check all your measurements and lines to ensure accuracy.
Field Maintenance and Safety
Safety first, flag football friends! It's crucial to ensure that your field's playing surface is safe for all players. Keep an eye out for any potential hazards, such as holes, rocks, tree branches, or debris. If you're playing on grass, make sure it's well-maintained and properly mowed. For artificial turf, inspect the surface for any tears or inconsistencies that could pose a risk to players.
Schedule regular field checks and maintenance to keep the playing area in tip-top shape. This includes repainting or re-chalking lines, fixing divots or damaged areas, and assessing the overall condition of the field. By staying on top of your field maintenance game, you'll be helping to create a fun and safe environment for everyone to enjoy!
FAQs
Can I play flag football on a regular football field?
Absolutely! A regular football field can be easily adapted for flag football by adjusting the markings and modifying the rules to suit the larger playing area.
What type of surface is best for a flag football field?
The ideal surface for a flag football field is one that provides good traction and is safe for players. Natural grass, artificial turf, and even packed dirt can all be suitable, depending on the league's preferences and budget.
Are there any organizations that regulate flag football field dimensions?
There are several organizations that provide guidelines and recommendations for field dimensions, such as the NFL FLAG and USA Football. However, many leagues and organizations have the flexibility to modify dimensions to suit their specific needs.
Can I customize my flag football field dimensions to better fit my league's needs?
Yes, you can customize your dimensions to accommodate your league's preferences, skill levels, and available facilities. Just ensure the changes are fair and provide a level playing field for all teams.
Final Words
Understanding the field dimensions is essential for anyone who loves this fantastic sport. From the official measurements to the impact of field size on gameplay strategies, we've explored the ins and outs of what makes the flag football field so unique.
But remember, the real magic of flag football lies in the passion, teamwork, and camaraderie that brings players together on the field. So, whether you're setting up your own field for a friendly game or cheering on your favorite team from the sidelines, let's celebrate the joy that flag football brings to our lives.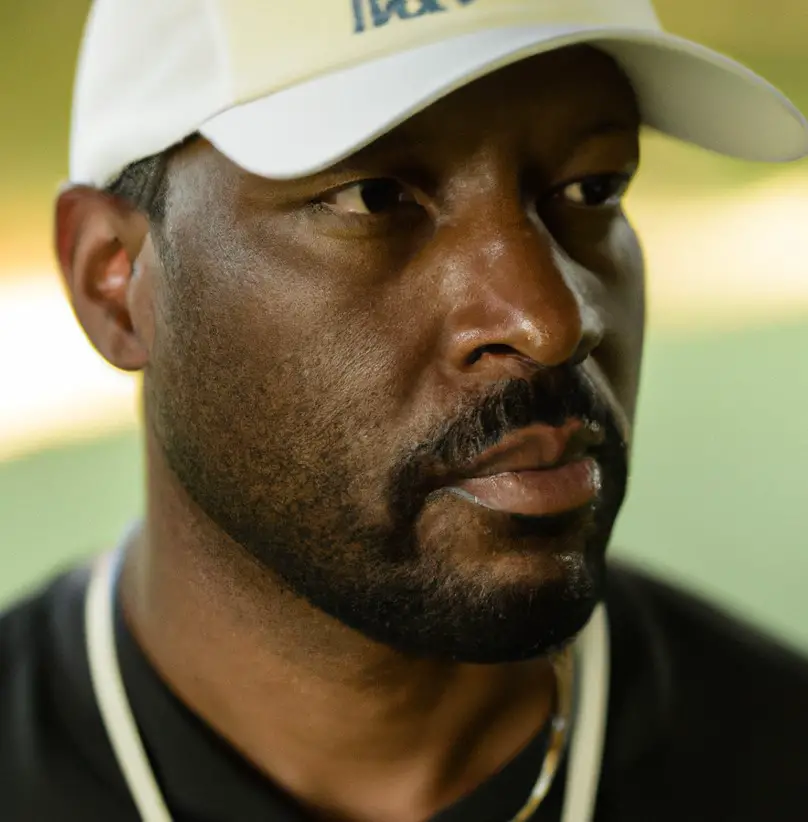 Marquel Williams is a highly regarded flag football coach with over a decade of experience in the sport. He is dedicated to developing young flag football players and helping them reach their full potential. Throughout his coaching career, Marquel has won hundreds of games, showcasing his expertise in player training, game planning, and motivating his teams.