One of the questions that often arise in discussions about flag football is whether or not the game has quarters. In tackle football, games are divided into four quarters, each lasting 15 minutes.
But does the same hold true for flag football?
In this article, we will explore the use of quarters in flag football, including the reasons for their use or non-use, and alternative methods of dividing the game into segments.
Whether you're a seasoned flag football player or simply curious about the game, read on to learn more about this exciting sport.
Quarters in Flag Football
With traditional college and professional football you watch on television on Saturdays and Sundays in the fall, the games are divided into 15-minute quarters. Even most youth and high school games consist of quarters of varying lengths.
In flag football, the same may be true. Depending on the level of play and the age of the players, some leagues may shorten or lengthen the quarters.
Here is a brief sampling of timing procedures for leagues that use quarters:
Most flag football leagues give players five to 10 minutes or more to rest and regroup with their coaches between the second and third quarters. This is called halftime.
Advantages and Disadvantages of Quarters in Flag Football
There are both advantages and disadvantages to dividing the game into quarter segments.
Advantages of using quarters in flag football include:
Structured breaks: Dividing the game into quarters can provide timely breaks for players to rest, strategize, and make adjustments. This can help maintain the intensity and competitiveness of the game.
Equal playing time: Quarters can also ensure that all players get equal playing time, as coaches can rotate teammates in and out at the end of each quarter.
Strategy and planning: Quarters can provide coaches with an opportunity to plan and adjust their strategies throughout the game, leading to a more organized and effective approach to the contest.
However, there are also some drawbacks to using quarters in flag football, including:
Disruption of flow: Quarters can disrupt the flow of the game, as players may need to stop and restart repeatedly, leading to a slower pace and potential loss of momentum.
Shortened playing time: Quarters can also lead to a shorter overall playing time, as breaks between quarters can add up and reduce the amount of time spent actually playing the game.
Unnecessary complexity: Dividing the game into our segments may add unnecessary complexity to an already fast-paced and dynamic game.
Ultimately, the decision to use quarters in flag football should be based on the specific needs and preferences of the players and coaches involved in the game.
Learn more: How long is a flag football game?
Alternative Methods of Dividing Games
A well-known youth league that differs is NFL FLAG. Games consist of halves that are usually 15-25 minutes long.
Like NFL FLAG, quarters are not typically used by most flag football leagues and tournaments to divide the game into segments like they are in traditional tackle football. Instead, flag football games are usually divided into halves or a single, continuous period of play.
One reason for the non-use of quarters in flag football is the fact that it is a fast-paced game that is typically played in a shorter amount of time than tackle football. A typical flag football game may only last an hour, whereas a tackle football game can last for three hours.
Using quarters in flag football could disrupt the flow of the game and make it feel more like a stop-and-start affair, rather than the continuous back-and-forth action that is characteristic of the game.
Instead of using quarters, flag football games may be divided into halves, with a break in between for players to rest and regroup. Alternatively, a single, continuous period of play may be used, with a running clock that is stopped only for timeouts or other game-related interruptions.
These methods of dividing the game into segments can help maintain the flow and speed of the game, while also ensuring that players have an opportunity to rest and strategize.
Final Words
Flag Football can be played with a wide range of rules, including the option to split into quarters. This makes it an attractive option for both organized groups and casual players alike.
Whether you're looking for a friendly game of pick-up or a competitive tournament, flag football has something for everyone. With its variety of rules, it's easy to customize the game to fit your needs and preferences.
That being said, the rules of flag football can vary from one league or tournament to another. It is important for players and coaches to be familiar with the rules of their particular league or tournament.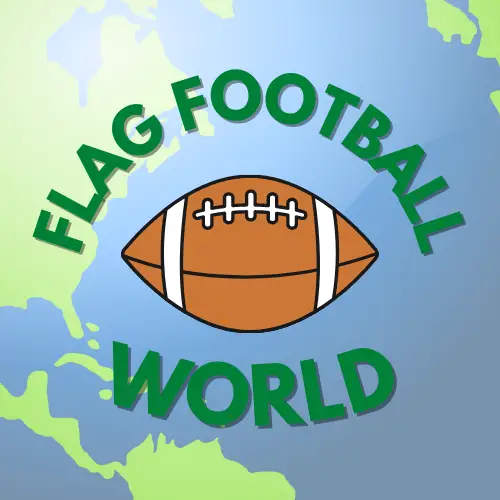 Vance J has played flag football since he was a boy. Since then, he has become a coach and a huge advocate for growing the sport. He loves to write and talk about flag football!